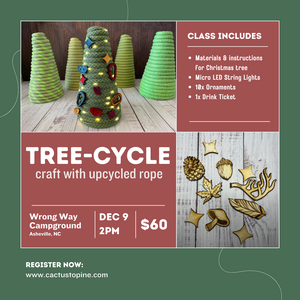 This 90 minute class will take place Saturday, December 9th at 2pm.
We will be meeting at the Wrong Way Campground in Asheville, NC. 
Each participant will get to pick any color from a selection of retired rock climbing rope and learn how to make a tree. Next, you will receive the battery operated, multi colored lights and learn how to coil them. Finally, you will get to pick 10x wooden engraved pin ornaments and get to decorate them and attach them to your tree!
Class is capped at 12 participants. Each participant will also get a drink ticket for a beverage from the Canteen.